About Akshaya Tritiya 2023:
Akshaya Tritiya, or Akha Teej, is an auspicious and holy day for Hindus. It takes place during Shukla Paksha Tritiya in Vaishakh. Having Akshaya Tritiya on Rohini Nakshatra day on Wednesday is very fruitful.
Akshay is Sanskrit for "never diminish." Hence, the advantage of doing any Japa, Yajna, Pitra-Tarpan, or charity is never diminished and is always remembered by the person.
Akshaya Tritiya is believed to bring prosperity and good luck and there is huge importance in buying gold on akshaya tritiya. Most people buy gold on this important day as it is believed that doing so on Akshaya Tritiya will bring prosperity and increase wealth in the future. It is also believed that gold purchased on this day will never depreciate and will continue to increase in value.
Vishnu, the curator god of the Hindu trinity, is responsible for Akshaya Tritiya Day. According to Hindu mythology, Akshaya Tritiya marked the beginning of the Treta Yuga. The birth anniversary of the sixth incarnation of Lord Vishnu, Parshuram Jayanti, and Akshaya Tritiya usually falls on the same day.
However, depending on the rise time of Tritiya Tithi, Parshuram Jayanti may be a day earlier. Vedic astrologers consider Akshaya Tritiya an auspicious day free from negative consequences. Contact the best astrologer in Gurgaon to know more about the importance of Akshaya Tritiya 2023.
Spiritual Significance of Akshaya Tritiya
On this day, Vedvyas and Lord Ganesha started composing the Mahabharata.
Lord Parshuram, the sixth strong incarnation of Lord Vishnu, was born on this day, and his birthday is also celebrated.
The goddess Annapurna was born on this day.
On this day, Lord Krishna gave his poor friend Sudama, who came to his help in need, wealth, and financial gain.
According to the Mahabharata, Lord Krishna gave "Akshaya Patra" to the Pandavas on this day while they were banished. He provided them with a crock that would always create an endless food supply, never leaving them wanting.
The river Ganga came to the land of God on that day.
On this day, Kubera honored the goddess, Lakshmi, granting her the place of treasurer of the gods.
The day is a public holiday in Jainism honoring Lord Adinath, the founder of the faith.
Akshaya Tritiya Fasting:
At Akshaya Tritiya 2023, one can choose from a variety of fasting options depending on one's health, age, and preferences. Some people choose to fast completely, drinking only water, while others choose to fast partially or eat only produce.
The day before the fast, people should reduce their intake of fatty and heavy foods to prepare physically and mentally.
Additionally, they should eat healthy, light foods, such as fruits and vegetables. People should get up early and take a bath on Akshaya Tritiya. They must then begin to fast and worship their deity.
If they are on a partial fast, they can consume liquids, fruit juices, or fruits. The fast can be broken after dark or during the puja. After the fast is over, people can visit the temple, offer prayers and ask for blessings from their favorite deity.
Devotees of Vishnu observe a whole fast to pay homage to the Lord. Later, rice, ghee, vegetables, salt, fruits, and clothes are given in charity to people experiencing poverty. As a representation of Lord Vishnu, Tulsi pure water is strewn everywhere.
On this day, barley is offered to the sacred fire, a sacred bath is taken in the Ganges, and contributions and sacrifices are made.
Jains complete their annual penance and end their devotion by drinking sugarcane juice.
Engaging in spiritual practice, meditation, and chanting mantras is believed to be important to ensure future fortune.
On this day, followers of Lord Krishna anoint the idol with sandalwood paste. It is believed that by doing this, one will enter paradise after death.
Why Does it Matter?
An important Hindu festival known as Akshaya Tritiya is celebrated on the third day of the bright half of the month of Vaishaka. It is considered a lucky day for making fresh starts, buying metals, and starting new businesses. Here are some of the reasons why Akshaya Tritiya is significant in Hindu religion and culture:
Celebrate Lord Parashurama's Birthday
According to mythology, the importance of akshaya tritiya lies in Lord Parashurama, the sixth form of Lord Vishnu, who was born in Akshaya Tritiya. It is said that on this day Lord Parashurama was created to bring Dharma and order to the earth.
Akshaya Tritiya marks the beginning of the spring season.
During this period, farmers begin to prepare their fields for cultivation and it is considered a favorable time to start new businesses and investments.
It represents continuous growth.
"Akshaya" in Sanskrit means "eternal" or "infinite". Any investment, gift of money, or positive action that was taken on this day has a lasting impact on his life. It is considered a day of success, prosperity, and development.
Gold in Akshaya Tritiya is believed to bring good luck, wealth, and prosperity. The importance of buying gold on Akshaya tritiya is considered a symbol of prosperity and security and is believed to bring happiness and stability to the home.
The purchase of gold is believed to represent wealth and prosperity that will increase over time. An application of this long-standing practice is that gold is always profitable to buy and will always be profitable to sell.
Akshaya Tritiya 2023 Date: Saturday, April 22, 2023
Akshaya Tritiya Muhurat – 07:49 AM to 12:20 PM
Duration – 04 Hours 31 Mins
Tritiya Tithi Begins – 07:49 AM on Apr 22, 2023
Tritiya Tithi Ends – 07:47 AM on Apr 23, 2023
Rituals for Akshaya Tritiya 2023:
On this auspicious day of Akshaya Tritiya, do penance and follow the practices listed below. The akshay tritiya puja vidhi includes:
Offer flowers and sandalwood paste to Lord Vishnu and Goddess Parvati.
Pray to Goddess Kubera and Lakshmi (God of wealth).
Offer flour, gram, lentils, milk, and clothes while you worship.
Pronounce Vishnu Sahastranam aloud.
Do Pooja and offer it to Lord Krishna and Lord Vishnu.
Donate to people experiencing poverty, Brahmins, and cows by offering greenery. You can give him things like sesame, mattresses, cloth, sandalwood, vermilion, sandalwood, betel nut, coconut, buttermilk, and water.
Benefits of Akshaya Tritiya:
Worshipping Goddess Lakshmi will help you become rich, famous, and successful.
All family members will be satisfied and prosperous.
Whatever you decide to start on this day will take you far, whether it's a new business, buying a house, buying furniture, or buying a vehicle.
The sins of devotees will be forgiven.
Lord Ganesha's blessings will always be with you.
Lakshmi Kuber Puja helps a person attract good fortune and makes him prosperous.
Through this knowledge, wisdom and prosperity can be attained.
The best time to start any new or auspicious business is during Akha Teej.
When there is internal satisfaction, the financial situation is stable.
On the professional level, we are experiencing extraordinary growth and success. Businesses grow with the help of the goddess.
It is beneficial for your family's safety and for maintaining excellent health.
When the debt is cleared, the financial situation of the person improves.
Lakshmi Kuber Puja is a great way to achieve harmony and marital bliss.
One gets more fortune and luck and is absolved from all kinds of past sins.
Health and longevity improve.
Buying metal from Akshaya Tritiya is more auspicious.
The native delights children and parents.
With Kuber and Lakshmi endorsements, new revenue streams are opening up.
Akshaya Tritiya 2023 Puja Activities:
Karma Purvanga (Ganesh Poojan, Matrupojan, Abhyudaya, Punyavachan, Kalash Sthapana, Rakshavidhan, Navagraha Pooja).
Worship of Maa Lakshmi and Lord Kuber (according to akshaya tritiya muhurat).
Recitation of Lord Kuber, Maa Lakshmi Stotra, and Ashtottara Namavali.
Homa (Havana).
Worship and Aarti of Lord Kuber and Maa Lakshmi.
Akshaya Tritiya's Method of Worship:
Continue to fast on Akshaya Tritiya's day. Bath before dawn. So wear yellow clothes. Use Gangajal to cleanse the idol of Lord Vishnu in the house temple.
Tulsi and yellow flowers are offered to the Lord. After lighting the lamp and incense sticks, sit down. One should recite Vishnu Chalisa or Vishnu Sahastranam. In the end, perform the Sri Hari aarti. Contact the best Jyotish in India for puja.
Importance of Buying Gold on Akshaya Tritiya: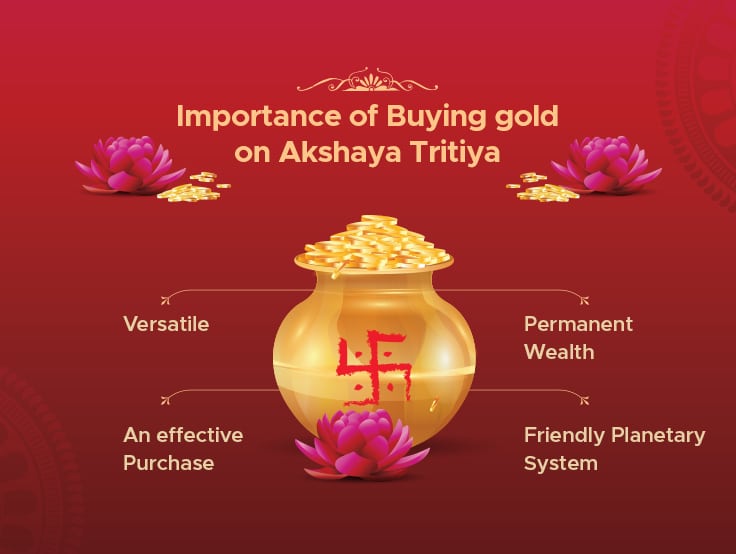 Gold Increases the value of an individual, family, or even a business. It also offers the best return on investment. Buying gold from Akshaya Tritiya 2023 is also a sign of prosperity and wealth.
Since buying gold increases health and wealth, it is believed that doing so in Akshaya Tritiya guarantees eternal wealth.
Generally, Akshaya Tritiya is auspicious; Therefore, Muhurta is not needed to start a new business or make a major acquisition. People often start their new businesses on this day to ensure a successful start and action plan.
Friendly planetary system
Hindus believe that the sun appears brightest on this day. The Sun, ruler of all planets, and the Moon, ruler of creation, are exalted or at their brightest on this day. It's a lucky day to get married and start new relationships.
Conclusion
Akshaya Tritiya 2023 is a very holy and special day for Hindus. It is considered to be happening in Shukla Paksha Tritiya. In the above article, we discussed the Akshaya Tritiya date, rituals, celebrations, fasting, and other related stuff.
If you are Hindu and want in-depth information about this day, get in touch with the best astrologer in India. Pt Pawan Kaushik is here to help you with this. He will explain everything in detail and how it can help you in getting success in the future.