Awards
Awards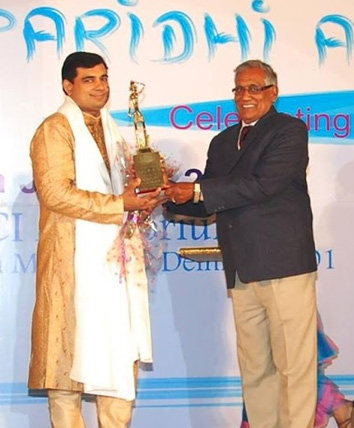 Astrology is the Vedic study that shows the influence of distant cosmic objects on humans. This field is diverse and requires years of experience that comes from focus, hard work, dedication and the blessings of the Almighty. Pt. Pawan Kaushik is a nationwide popular astrologer and Vastu Expert who has been serving people across the nation for more than 20 years. Due to his skills and expertise in the field of astrology and Vastu, he was honored with the Paridhi Achievers Award in 2011.
The event commenced by paying a sincere tribute to Pandit Bhimsen Joshi that was followed by cultural mixes of various dance and music performances. The event started with a Sufi performance that was followed by classical dances and theatre performance. This event was organized on the occasion of completing 25 years of cultural excellence by the Paridhi Art Group.
In addition to this, many other dignitaries were present for the award ceremony. All these celebrities graced this special evening by their presence and were awarded for their achievements in life. Mr Arvind Kejriwal (the present Chief Minister of Delhi) was honored by "Desh Ke Naam" Award for bringing RTI in Indian Democracy, Kiran Bedi who was the first IPS Officer of India was honored with a prestigious award for women empowerment and Soham Baba Ji was awarded for the World Peace Movement. The other awarded winners who were honored during the Paridhi Award Ceremony were Joyoshree Arora (Film and Television), Pankaj Rag (Director FTII) for his devotion and literature, Dhanangaya Kumar (Senior Economist World Bank and Cultural Activist) and Leena Mahendale (Literature and Social Reforms).
Not just this, there were many other renowned literary personalities gathered for attending this special occasion. This award ceremony experienced the warm presence of some nation-celebrated names such as Chitra Mudgal, Raji Seth, Anil Joshi, Prof. Ripusudan Srivastava, Arjun Rai, Pankaj Singh and Salim Arif. The other awardees were Manjari Chaturvedi (Sufi Kathak), Lakshmi Shankar Bajpai (Poet), Krishn Kanhai (Kanhai Art), Sushil Baderwal (Young Achiever), Grace Ashok Thakkar (Social Worker) and Sushil Sakhuja(Sculptorist).