The festival of lights, Diwali would be celebrated all across the country on 12th November 2023. Happiness and sorrows are indispensable parts of our mortal lives, but we must never discontinue the inward journey towards truth. Have you ever seen the diyas that we light on Diwali? 
Its wicker withstands the strong winds and continues to spread light. In the same way, on Diwali, we must brace ourselves for overcoming the challenges and hardships of life and must never let the light inside all of us fall dim.
The legendary story of Ramayana teaches us all a valuable lesson about life. Lord Rama, Maa Sita and Laxman were all reincarnations of Gods. Still, they underwent tragedies and thus presented before the common man, the truth about the troubles that a human faces. They taught us that suffering is an inevitable part of human life, but one must never lose hope after failures and nor must they become arrogant after victories.
On the 12th of November, we all will once again celebrate the arrival of Lord Rama with Maa Sita to Ayodhya. Again the diyas will be lit, and people will rejoice in the victory of good over evil.
When is Diwali in 2023 – Diwali 2023 Date and Mahurat
Deepavali, an important Hindu festival, represents the victory of good over evil. Notably, it is not limited to Hindus; Buddhists, Jains, and Sikhs also enthusiastically participate in the Festival of Lights. According to the ancient calendar, Diwali falls on Amavasya, which is the 15th day of the Kartik month each year. Therefore, Diwali in 2023 will be held on
Sunday, November 12, 2023.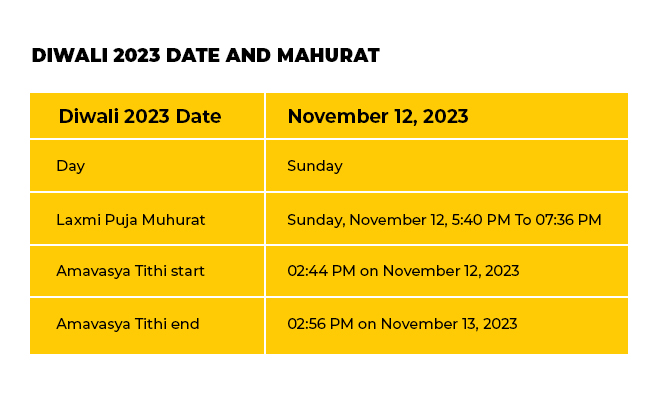 Diwali 2023: 5 Days Of Diwali Festival
| | | | |
| --- | --- | --- | --- |
| Festival | Date | Tithi | Celebrations |
| Dhanteras | Friday, 10, November 2023 | Trayodashi | Festival of Purchasing Gold and Metals |
| Choti Diwali | Saturday, 11 November 2023 | Chaturdashi | Decorations and Making Rangolis |
| Diwali (Laxmi Pooja) | Sunday, 12 November 2023 | Pratipada | Offer prayers to Mata Laxmi  |
| Goverdhan pooja | Tuesday, 14 November 2023 | Pratipada | Offer prayers to Lord Goverdhan (Shri Krishna) |
| Bhai Dooj | Wednesday, 15 November 2023 | Dwitiya | Celebration of brothers and sisters |
How to perform Laxmi Puja
Goddess Laxmi and Lord Ganesha are worshipped on the auspicious day of Diwali. They pray to the deities to bless them with peace, prosperity and good health.
Items required for puja :
Diyas (Earthen lamps)

Paste of sandalwood

Flowers, sweets

Sweets, apple

Kalash

Rice grains
Rituals for Diwali Puja 2023
The place where puja is to be performed must be sanctified by sprinkling holy water – Ganga Jal.

A high platform must be set, on which a red cloth should be spread. A handful of grains must be kept in the centre of the red cloth.

A Kalash must be placed in the middle. The Kalash is to be filled 75 per cent with water. Betel nuts, rice, coins and flowers must also be put in the Kalash. 5 mango leaves must be arranged on the neck of the Kalash. A small thali is then placed on top of the Kalash on which a small mountain of rice is made. A lotus is drawn on the rice with Haldi powder.

The faces of the idols of Laxmi and Ganesh must be west-facing, and the idol of Maa Laxmi must be on the right side of Lord Ganesha. Some coins are also put before the idol of Maa Laxmi.

Tilak of Haldi and Kumkum is applied, and flowers are offered to the idols as well as to the Kalash. Sweets are then offered to the deities and incense sticks are lit.

When one starts the Puja, they must keep the books of their business accounts beside the idol of Maa Laxmi. A Swastika is also drawn with vermilion on the floor or the wall.

One Earthen lamp filled with ghee and one filled with oil is lit in front of Lord Ganesha and Goddess Laxmi.

During the puja, the devotees must sit with their faces in the East or North direction. Mantras and Bhajans of Maa Laxmi and Lord Ganesha are chanted to invoke the Goddess of Wealth and the God of knowledge. People must wholeheartedly worship the Gods and must seek their blessings to face the challenges of the coming year.
Conclusion
In conclusion, Diwali 2023 embodies a profound message of hope, strength, and the victory of good over evil. As we prepare to celebrate this Festival of Lights, we are reminded of the enduring light within us that can withstand life's adversities. The legends of Lord Rama and the rituals of Laxmi Puja inspire us to persevere through challenges with humility and seek blessings for prosperity and well-being.
Diwali unites people of various faiths in a celebration of unity and positivity. So, let us embrace this Diwali as an opportunity to illuminate our lives with joy, compassion, and the eternal light of hope.
This Diwali get the best astrological consultation from Pt Pawan Kaushik, a famous astrologer in India and lead your life on the right path. Consult the top Jyotish in India to know more.