"Mahashivratri will fall on Saturday, February 18th, 2023. May this auspicious day bring an end to all your troubles, and may the blessings of Lord Shiva lead you towards a more prosperous and fulfilling life."
Mahashivratri 2023 is just around the corner, and the excitement and enthusiasm in the air are palpable. This auspicious day, dedicated to Lord Shiva, holds an important place in the Hindu calendar and is celebrated with great zeal and enthusiasm.
As the day comes, people gear up to offer their prayers to the Bholenath and seek his blessings. And while the devotional aspect of the day is important, it is essential to know the best Shivratri Muhurat 2023 or Shivratri Puja Muhurat, along with the necessary Puja Samagri and Vidhi. So, let's delve into the details and make the most of this holy day.
Shivratri Muhurat 2023
The date and time for Mahashivratri typically come in the second half of February month or the first half of March. In 2023, the Shivratri puja time and date will be divided into a specific span of Shubh muhurat, which serves as the deadline for breaking the fast.
This Shivratri puja muhurat is also subdivided into several Kaal and Prahar. On February 18th, the Chaturdashi Tithi marks the Mahashivratri 2023 date. The Puja timings continue into the next day, February 19th, 2023.
| | |
| --- | --- |
| Mahashivratri 2023 English date in India | From February 18th 2023, Saturday, to February 19th 2023, Sunday. |
| Mahashivratri 2023 Hindi date in India | The fourth day of the Krishna paksha, Phalguna month in north India and Magha month in south and east India. |
| Nishita Kaal Puja | February 19th, 12:09 am to 1:00 am. |
| Duration | Approximately 1 hour. |
| Mahashivratri 2024 date | March 8th 2024. |
Best Time To Do Shivratri Puja
The timing for Maha Shivratri 2023 can be complex; hence it's recommended to consult the top Jyotish in India to determine the best Puja Prahar for you.
| | |
| --- | --- |
| Shivratri 2023 Parana time | 19th February 0:56 am to 03:24 pm |
| Ratri First Prahar Puja | February 19th 06:13 pm to 09:24 pm |
| Ratri Second Prahar Puja | February 19th, 09:24 pm to 12:35 am |
| Ratri Third Prahar Puja | February 19th, 12:35 am to 03:46 am |
| Ratri Fourth Prahar Puja | 19th February 03:46 am to 06:56 am |
| Start of Chaturdshi Tithi | February 18th 08:02 pm |
| End of Chaturdshi Tithi | 19th February 04:18 pm |
Shivratri Puja Samagri List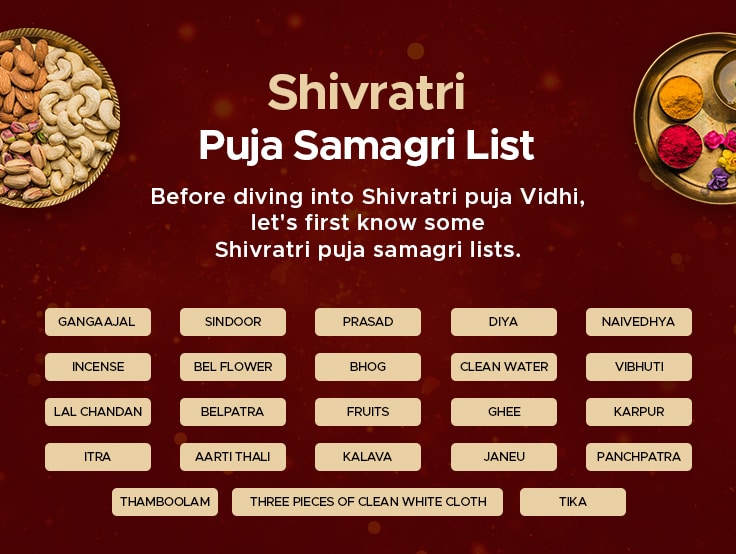 Before diving into Shivratri puja Vidhi, let's first know some Shivratri puja samagri lists.
Gangaajal
Sindoor or Akshat
Sindoor or Akshat
Prasad
Diya
Naivedhya
Incense
Bel flower and other white flowers
Bhog
Clean water
Vibhuti
Lal Chandan
Belpatra
Fruits and dry fruits, especially the bel fruit
Ghee
Karpur
Itra
Three pieces of clean white cloth
Kalava
Janeu
Panchpatra
Aarti thali
Thamboolam
Tika
All Steps for Maha Shivaratri Puja Vidhi & Vrat
If you want to perform the Puja Abhishek for Mahashivratri correctly, you have come to the right place. We have provided the correct steps to worship and offer Puja to Lord Shiva. Follow the steps given below:
Take a bath early in the morning and wear fresh clothes.
Avoid eating anything before visiting the temple.
Seek blessings from Lord Shiva for a successful Vrat (fast).
Get ready to visit the Shiv Temple with your family or alone to worship the Shiv Linga.
Purchase the required offerings, including Bael leaves, datura flowers, Panchamrat, Bhang, and Prashad, before entering the temple.
Finally, offer Puja to the Shiv Linga, chant Om Namah Shivaya, and perform the Aarti of Lord Shiva.
Mahashivratri 2023: Customs and Traditions
The celebration of Mahashivratri 2023 is marked by various customs and traditions that supporters across the country follow.
One of the most significant customs is the observance of a fast, which many devotees observe as a form of penance and devotion. It is believed that by fasting on this day, believers can cleanse their bodies and mind and earn the blessings of Lord Shiva.
Another essential tradition linked with Mahashivratri is the ceremonial bath in the early morning hours. Devotees take a dip in the holy rivers, especially the Gangas, to cleanse themselves before performing the puja. After the bath, devotees wear new clothes and visit Shiva temples, where they offer prayers and perform rituals to seek blessings from god.
Mahashivratri is also marked by the chanting of the sacred melody 'Om Namah Shivaya.' This hymn is supposed to have great power, and its chanting on this day is considered very auspicious. Many devotees also spend the night in meditation, chanting, and reading the sacred scriptures of Lord Shiva.
In some parts of India, it is normal to prepare special foods and sweets for the occasion, such as thandai, a traditional drink made with milk, almonds, and spices. Many people also make a unique offering of bael leaves to Lord Shiva, which is believed to be his favourite.
Discover the Untold Stories Behind the Celebration of Maha Shivratri 2023.
The Shiv Puran mentions this day's significance, and several stories are associated with it.
Commemorates the marriage of Lord Shiva and Goddess Parvati: One popular story associated with this day is the marriage of Lord Shiva and Goddess Parvati. They had decided to be together in their hearts before getting married. The union of Lord Shiva and Goddess Parvati represents the combination of entropy with transformation.
Celebrates the cosmic dance: Many years after their holy union, Goddess Parvati left Lord Shiva, marking the day of the cosmic dance or Tandav. This represents the destruction of the universe, a complete shift from order to chaos. It signifies that the powers of Lord Shiva are incomplete without the gentle shakti of Goddess Parvati.
Forgive all sins: An eastern Indian legend tells the story of a hunter who, when unable to find food, killed a small bird and spent the night on a bel tree in the forest. Unknown to him, a prehistoric shiva lingam was hidden at the bottom of the tree. As he slept, a few drops of blood from the bird mixed with a bel leaf and fell on the shiva lingam's head, resulting in the use of Lal Chandan on Mahashivratri day.
Importance or Benefits of Doing Pooja on Maha Shivratri 2023
The advantages of doing Shivratri pooja are numerous. It is believed that worshipping Lord Shiva on this auspicious day can bring harmony, prosperity, and well-being into one's life. Some of the benefits of doing Shivratri pooja 2023 include:
Blessings of Lord Shiva: Worshipping Lord Shiva on Maha Shivratri can bring his blessings into one's life. He is believed to bless his devotees with health, wealth, and happiness.
Spiritual Growth: Maha Shivratri is considered a highly auspicious day for spiritual seekers. The intense energy present on this day can help one progress on their spiritual journey.
Removal of Negativity: Worshipping Lord Shiva on this day can help remove negativity from one's life. It is believed that the energy of Lord Shiva can destroy negative influences and create positive vibrations.
Fulfilment of Wishes: It is believed that offering prayers to Lord Shiva on this day can help fulfil one's wishes and desires.
Cleansing of Sins: Maha Shivratri is also considered a day of forgiveness. It is believed that worshipping Lord Shiva on this day can help one to cleanse their sins and start afresh.
Blessings for a great future husband to women: Unmarried women are advised to observe the Nirjala Vrat on Mahashivratri in order to attract a future husband who will be as loving and caring as Lord Shiva, bestowing upon them blessings for a happy married life.
Overall, the benefits of doing Shivratri pooja can positively impact one's life, helping one to grow spiritually and achieve greater well-being.
Conclusion
In conclusion, Mahashivratri is a significant festival that holds great importance in the Hindu religion. It is celebrated with devotion and reverence across India and is dedicated to the worship of Lord Shiva, one of the principal deities of Hinduism.
If you still have any kind of confusion or want to consult with the best Astrologer in Gurgaon to know more about the best-suited Shivratri puja muhurat, get in touch with Pt Pawan Kaushik. He is the top Jyotish in India that can help you with every difficulty you face in your life.