The Hindu festival of colors, Holi, is a time of great joy and celebration, but before the colorful festivities begin, there is a period known as Holashtak. It is an eight-day period that is considered inauspicious, and there are certain dos and don'ts that should be observed during this time.
Through this blog, we will explore the significance of Holashtak, what it means for those celebrating Holi, and the traditional practices that are observed during this period. By understanding the customs and traditions of Holashtak, you can ensure that you and your loved ones have a safe and auspicious Holi celebration.
What is Holashtak?
Holashtak is a combination of two words – Ashtak and Hol, where Ashtak means 8 days and Hol means Holi. According to legend, Holashtak is a significant day in Hinduism. In Hinduism, Holashtak occurs in the month of Falgun.
Holashtak occurs every year during Ashtami Tithi of Shukla Paksha of the Phalgun month and Holika Dahan (Phalgun Purnima). Holashtak refers to the eight days leading up to Holi. It is suggested not to engage in any auspicious work during this time because it is seen as unlucky. Holashtak is said to begin this year on February 27 according to Panchang. On the day after Holika Dahan, the festival of Holi is observed.
Holashtak is mainly observed in North Indian states like Himachal Pradesh, Punjab, Haryana, Rajasthan, Uttar Pradesh, Madhya Pradesh, and Bihar.
Why You Should Not Do Anything in Holashtak?
The 8 days of Holashtak are considered inauspicious and it is believed that one should not buy anything good or start any auspicious ceremony. It is said that in these 8 days before Holi, Prahlad, a follower of Lord Vishnu, was tortured for murder. Thus, the eight days leading up to –
Holi—Falgun Shukla Ashtami, Navami, Dashami, Ekadashi, Dwadashi, Trayodashi, Chaturdashi, and Purnima—are regarded as unlucky.
Another story following the Holashtak is that when Kamadeva was burned to ashes as a result of Lord Shiva's wrath, it is also thought that Rati, Kamadeva's wife, had eight dates to repent.
Also, it is thought that during these eight days, bad energy and vibe fill the air. Many planets undergo daily motion and their condition changes. It is thought that black magic and other dark arts are also practiced nowadays. In addition, there is greater Tantric education practice during this time.
Holashtak 2023 Start & End Date and Timings
Holashtak in 2023 will start from February 28' 2023 to March 7, 2023. The eight days between Falgun Ashtami and Purnima are seen as unlucky. But, according to English calendar dates, Holashtak this year lasts nine days. It's advised not to perform any auspicious work during these nine days.
The timing of Holashtak 2023 as shown by the Hindu calendar, starts at 02:21 AM on February 28 which will end with Holika Dahan.
Holashtak 2023: What to Do For Minimizing Holashtak Effect?
It is believed that during this time, negative energies and influences are at their peak. To minimize the Holashtak effect, here are some things you can do:
1. Perform Spiritual Practices
It is believed that performing spiritual practices like meditation, yoga, and chanting during Holashtak can help in reducing the negative effects. These practices help in calming the mind, reducing stress, and promoting positivity.
2. Clean Your Home and Surroundings
Cleaning your home and surroundings during Holashtak can help in getting rid of negative energies. This can be done by thoroughly decluttering your home, burning incense, and using essential oils.
3. Avoid non-vegetarian Food
Many people avoid eating non-vegetarian food during Holashtak as they believe that it can attract negative energies. It is best to avoid non-vegetarian food during this period.
4. Donate to the Needy
Donating to the needy during Holashtak is considered to be a good way to reduce the negative effects. This can be done by donating food, clothes, or money to a charitable organization.
5. Offer Belpatra
Select Belpatra that is approximately your age, write Ram on them with white sandalwood, and offer them to the Shivling while reciting the mantra "Om Namah Shivaay" to get rid of illnesses.
6. Create a Swastik on Your Front Door
Grind turmeric and rice, add holy Ganga water, and draw Swastik or Om at your front entrance to drive away any bad karma at this time. The house's negative energy is expelled by doing this.
Things To Avoid During Holashtak 2023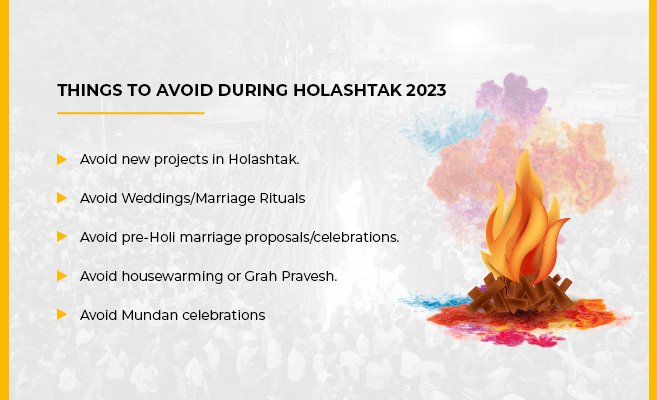 Since the Holashtak is an inauspicious time, you must avoid doing a few things. Below listed are the things you must avoid.
Throughout Holashtak, you shouldn't begin any new projects.
During Holashtak, marriage is totally forbidden.
Do not do Vidai rituals for your daughter or daughter-in-law at Holashtak.
No marriage proposals should be considered or engagement or wedding festivities should be planned prior to the 8 days of Holi.
Do not go for Grah Pravesh or a housewarming
Avoid Mundan celebrations
Things To Do in Holashtak 2023
You can fast and do pooja throughout these days since Rangbhari Ekadashi, Amalaki Ekadashi, and Pradosh Vrat start at this time.
On Falgun Purnima, worship Chandrama and the goddess Lakshmi.
On Falgun Purnima, take a Ganga Snan (bath) and give to a good cause.
Holashtak is a time of fierce planets. Hence, one should look after themselves. During this time, you can recite the mantras.
The people select a crossroad (Chauraha) on the last day of Holashtak, purify the area with Gangajal, and then scatter some dried wood, grass, and dung cakes there. They gather and add dried branches and twigs, which stand for bad energy, on each day of Holashtak. Then, on the day of Holika Dahan, all of these are set ablaze.
Conclusion
We are all excited about the Holi but to harness the positivity and good vibes of the festival, you must be cautious about the Holashtak. Do the good deeds mentioned above in the blog to ensure that the inauspicious Holashtak days cause you no harm.
To get a personalized reading about yourself based on your zodiac, birth date, and time, connect with Pt. Pawan Kaushik for a detailed report on the effect of Holashtak 2023 on your Kundli and life. Call +91-9990176000 to book an appointment.
FAQ's
Q.1 Can I buy anything on Holashtak?
Since Holashtak's eight days are inauspicious, any business, sale of a vehicle, housewarming, foundation worship, marriage, etc. should not be done in this time period.
Q. 2 Can I wear rudraksha during periods of Holashtak?
You must avoid doing or wearing anything auspicious during the Holashtak. Thus, it is suggested that you must not wear rudraksha during Holashtak.
Q.3 Can I do Griha Pravesh before Holi?
Griha Pravesh during Holashtak is strictly prohibited.
Q.4 Holashtak falls how many days before Holi?
The period of Holashtak starts 8 days before Holi. In 2023, Holashtak will start at 02:21 AM on February 28.