At some moment in your life, you might have stumbled upon women circumambulating around Tulsi plant with Puja thali in her hand. This sight of religious devotion can be witnessed in many Hindu houses. Did you know this is not just a part of traditional worshipping, but is also a way of showing gratitude to nature?
Holy textbooks, Vedas, Upanishads and Puranas talk about various mantras to admire and appreciate nature. Besides this, Ayurveda relies on various herbs (nature) for physical as well as mental well-being of living organisms.
Let's have a look at the medicinal effects of these sacred plants.
Tulsi
The holy basil is one of the most sacred plants in Hindu Mythology. According to ancient Purans, Tulsi prohibits the entry of Yama, the ruler of death, in house. Apart from this, there are various reasons why Tulsi is given utmost respect in Hinduism. Tulsi possesses curing qualities and purifies the surrounding environment, wherever planted.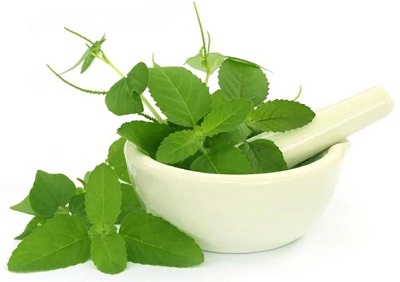 Source: fashionlady
Common diseases: Tulsi is a great bearer of anti-bacterial and anti-biotic properties, which is helpful for curing fever, common cold and headaches
Diabetes: Antioxidants and essential oils in Tulsi produce eugenol, methyl eugenol and caryophyllene, which intensify the body's sensitivity to insulin. This helps eliminate diabetes, control blood pressure and lower down cholesterol levels.
Stress: Tulsi helps balance the stress hormone – cortisol. Chewing two leaves a day can calm the nerves and improve blood circulation.
Urinary System: Tulsi detoxifies and lowers the levels of uric acid from the blood, cleanse and dissolve kidney stones.
Cancer: Being a strong anti-carcinogenic, Tulsi prevents further growth of breast cancer and oral cancer.
Coconut
The tradition of breaking coconut on every auspicious day is a message to the Almighty "O God, we welcome you by surrendering our ego". Besides this, coconut tree is known for enormous health benefits.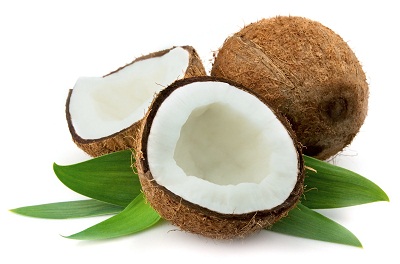 Source: spoonuniversity
Dehydration: Coconut water re-hydrates the body and cleanses the kidneys.
Natural Minerals: Coconut fruit is a rich source of vitamins, minerals and antioxidants.
Immune system: As a substitute for ghee/oil, Coconut oil helps strengthen immune system and prevent several diseases.
Peepal Tree
It is believed that Goddess Lakshmi resides in this tree. Besides this, Peepal tree is known for enormous health benefits.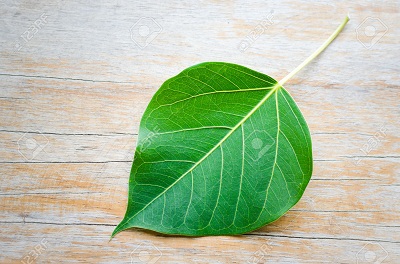 Source: 123rf
Constipation: The dried leaves help relieve from constipation.
Diabetes: Extracts from Peepal tree helps lower glucose levels from the blood, which is the root cause of diabetes.
Ears: The juice from leaves is highly effective against ear-related problems.
Rheumatic Pains and Arthritis: The anti-inflammatory extracts from leaves helps control arthritis and cures rheumatic pains.
Skin: The leaves are highly effective against boils, inflammation and wounds.
Asthma: The bark of this tree is helpful against asthma.
Speech problems: Peepal also holds the ability to cure speech irregularities when its leaf is taken along with honey.
Banyan Tree
Just like the oldest member of the family is considered knowledgeable and full of wisdom, Banyan tree too is considered the same due of its ability to grow for centuries. The national tree of India, Banyan Tree, is considered a symbol of stability and immortality.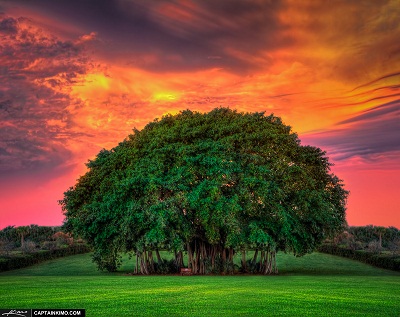 Source: captainkimo
Hair: The leaves of the tree can cure baldness and stimulate hair growth.
Nose: The roots of the tree can cure nose bleeding.
Tooth: The bark can provide quick relief from toothaches and helps cure all types of tooth infections including Halitosis.
Diabetes: The bark and the roots of the tree together is one of the best cures for diabetes.
Urine: The bark is an effective cure for all kinds of Urinary disorders.
Common problems: The leaves can be used for immediate relief from common health-problems such as itching, burns, ulcers, nausea etc.
Bal/Bel tree
Considered one of the most sacred plants in Hindu Mythology, Bel patti is very dear to Lord Shiva. Its trifoliate leaves symbolize the trinetra (three eyes) of Lord Shiva. Those who worship Lord Shiva and Parvati with bel patti as offerings are endowed with good health and spiritual power.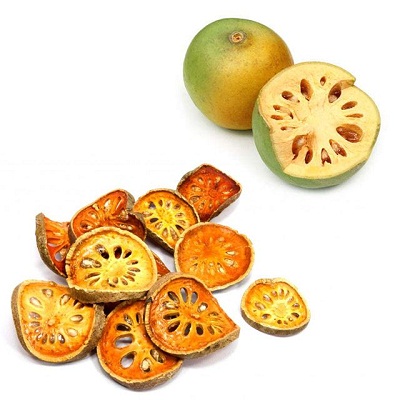 Source: giskaa
Hair: The fruit is highly effective against dandruff.
Blood and Cholesterol: The therapeutic properties of Bael leaves help maintain cholesterol level and keeps blood pressure under control.
Respiratory Problems: The juice from leaves is highly effective against common cold and other respiratory problems.
Scurvy: Rich in Vitamin C, intake of Bael fruit is an excellent treatment against scurvies.
Snakebite: The roots and leaves of the tree are highly effective against snake bites.
Cancer: The extract from its fruit has anti-proliferative property, which inhibits the growth of tumor cells.
Jaundice: The leaves of this tree are a slow yet effective cure against jaundice.
Common Problems: The fruit of Bael is known to provide relief from common problems such as constipation, diarrhea, gastric problems, digestion, fevers, appetite etc. The leaves are highly effective against Joint Pain, Swelling, headaches, bleeding gums, bacterial/fungal infections etc
Sandalwood
This holy herb is used as a paste for adorning deities. This mixture is also applied on forehead owing to its sedative properties, which are believed to create chilling effect.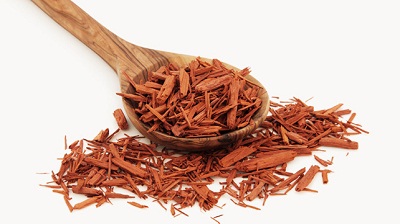 Source: Healthline
Skin Problems: The oil extracted from sandalwood has antiseptic properties, and is highly effective against open wounds, sores, boils, pimples and skin blemishes. The powder helps remove microorganisms, improve skin texture and is all-in-one solution for eczema, rashes, skin infections and acne.
Genital Problems: The sandalwood is known to cure inflammation of all genital organs and protects from STDs (Sexually Transmitted Diseases).
Tooth problems: Sandalwood helps tighten the gums, which in turn prevent easy tooth loss.
Common Problems: It is highly effective against chronic or severe cough, stress, hypertension, weak muscles, body odor, gastric troubles and internal infections.
Neem
Also addressed as 'Neemra Devi', Neem symbolizes Goddess Durga or 'Maa Kali'. It is believed that burning the leaves of Neem prohibits evil spirits. Neem is also considered highyl effective against several ailments and diseases.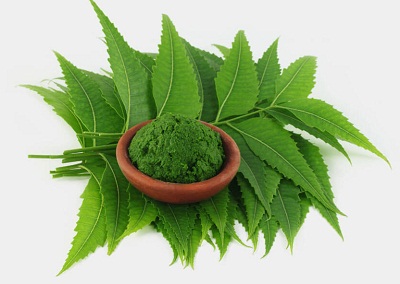 Source: stylecraze
Weight loss: Due to presence of anti-lipidemic properties, Neem flower is an excellent ingredient for losing weight, especially around your belly.
Blood: The leaves helps lower the blood sugar levels by increasing insulin sensitivity. It also helps lose the prevailing habits and addiction of anti-diabetic drugs.
Cancer: The protein extracts from the leaves inhibits growth of tumor cells.
Hair: The oil extracted from Neem tree helps kill the hair lice, prevents dryness and itching, and promotes hair growth.
Skin: Due to its detoxifying properties, Neem is the most recommended treatment in Ayurveda against skin disorders dryness, eczema, , boils, ulcers, acne & pimples, and eliminates the problem from the roots.
Oral problems: Neem twigs are highly effective against oral problems and prevent gum diseases, toothache, bad breath and ulcers.
Lotus
Lotus is the symbol of divinity, purity and beauty. It is the most revered flower in Hindu culture. It is believed that the flower, Lotus, blossoms from the belly of Lord Vishnu, and in the centre of it resides the 'Trimurti'.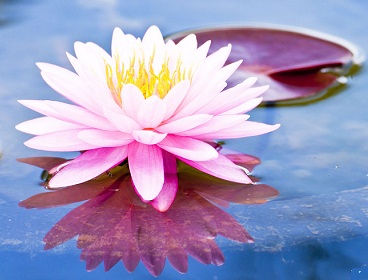 Source: Santa Banta
Blood: The iron, copper and potassium present in the roots of lotus stimulate blood circulation and helps regulate blood pressure. It also controls the levels of homocysteine flowing in the blood, which further prevents heart attacks.
Immune System: Vitamin C present in the roots help strength immune system, blood vessels and organs; and neutralize free radicals, which can cause cancer & heart diseases.
Obesity: Alkaloids present in Lotus leaves help cure obesity and improves blood circulation.
Digestion: Lotus seeds help in cleansing the kidney, diarrhea and stimulate appetite. They help revitalize the nervous system and are helpful for those suffering from insomnia. Lotus roots helps cure constipation.